… It makes me ask what it is about Ned and the Kelly story that makes later comic book artists want to use him in what they produce. This yellow – yellow! – man is wearing a belt that probably derives from boxers' championship belts … and he's wearing gloves [I think they're gloves] that aren't derived from the Kelly story at all. So it's the helmet [and sometimes the armour] that pulls them in. The helmet makes its wearer hard to read. He's virtually unknowable. If he has feelings and thoughts the onlooker can't read them. That, I think, is the attraction of the helmet. It hides whatever's going on inside the head! The Kelly Gang wore armour to protect themselves from bullets, but these comic book artists use the helmet [and armour] to hide the emotions and ideas of their characters.

Chester Eagle editor Australian Son: the story of Ned Kelly
Can folk lore turn historical figures into superheroes? Legends, fables, and myths have existed as long as people have warmed themselves around campfires. While the superhero genre is difficult to define, each society possesses unique anecdotes with iconic potential. From indigenous dreaming to colonial life, religious recitals through to modern Australia, or our love of sporting heroes and thoroughbreds, our nation has witnessed its fair share of stock characters and archetypes that influence the origins of pop culture heroes of today and beyond.
Ned Kelly in life, as in death, was a polarising figure. During his reign as an outlaw in the late 1870s, mainstream literature portrayed Ned as a ruthless criminal while pulp publications incited notoriety, encouraging it to spread through oral supposition and folk songs. When he rode the trails of North East Victoria it was the fight for land between squatter and selector that drew the battle lines. On a regular basis, Ned's portrayal in the media shifted through a multitude of conflicting attitudes. Metropolitan newspapers squared off against illustrative publications, parochial news sheets, and the ever popular 'penny bloods' – cheap publications aimed primarily at young working-class readers that remained popular for most of the 19th and well into the early 20th century.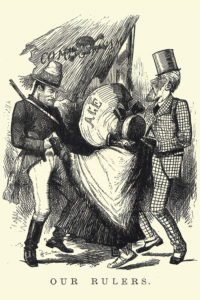 The penny bloods (or penny dreadfuls, as they were also known) were the predecessors of the illustrated comic that captivated readers with a heady mix of fiction and fact. The starkly contrasting opinions voiced in these diverse publications both fuelled the public's awareness of Ned Kelly's exploits and opened them up to further interpretation. Newspapers of the day competed, criticised, and openly lampooned each other by any means necessary, including their use of Ned Kelly—although none of them could accurately nail down his likeness. As an example, a politically motivated illustration in early 1879, while Ned and his Gang were still at large, appeared in the Melbourne Punch. Created by Thomas Carrington, the cartoon shows a beardless Ned Kelly dancing around a 'communism' banner with the Victorian Premier Graham Berry and a woman representing The Age newspaper.
The institutionalised publications and their upper-class masters viewed Ned Kelly and his ilk as nothing more than the dregs of society. Even after his Supreme Court trial and the sentence of death, when 32,000 signatures were collected for a reprieve from execution and presented to the Governor of Victoria, the pleas were simply ignored. While the document represented over 10% of the total population of Melbourne, the petition for clemency was belittled by the ruling class with the signature's owners being labelled as nothing more than 'vagabonds and ruffians.' The Government wanted Ned Kelly hanged and forgotten as soon as possible. And, by the end of 1880, the mortal Kelly Gang was no more. However, what was left behind was the spark of folklore by which today we see, on average, a Ned Kelly related story published weekly somewhere around the world. There are over thirty-one million pieces of information about Ned Kelly and the Kelly Gang available online.
FOLK2SUPER explores the imagination of history, through folklore inspired by the legend of Ned Kelly, and offers tantalising insights as to why Ned's story continues to resonate 140 years after his death. We intend to explore the variety of ways in which the exploits of Ned and his Gang have been remembered and re-created through popular culture. Since his execution in 1880, Ned Kelly has been mythologised into a 'Robin Hood' character, been accepted into aboriginal narratives, become a political icon, and a figure of Irish-Catholic and working-class resistance to the colonial and, to some degree, contemporary establishment. The proliferation of illustrated newspapers made possible by advances in printing technology and cheap mass publishing in colonial Australian culture, was an aspect of the industrial revolution that focused, nurtured and enabled the popularisation of Ned Kelly as a national symbol.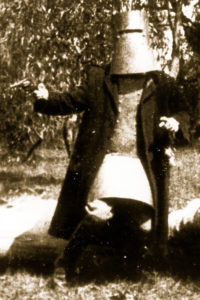 This fascination culminated in 1906 with The Story of the Kelly Gang, the world's first feature length movie which screened to full houses and toured Australia, New Zealand, and England. The government tried to circumvent such folklore by banning production of bushranger films in 1912. While the Act devastated the local film industry, advocates for Ned returned to print and Kelly literature began in earnest. Titles like Iron Ned Kelly and his Gang caught the attention Sir Arthur Conan Doyle who, during the First World War, petitioned the London War Office for 'Kelly Armour' to protect the troops. This fresh interest in Ned encouraged more publications and, in 1929, the first major pro-Kelly work was released. J.J. Kenneally's The Complete Inner History of the Kelly Gang was the inspiration for Sidney Nolan's culturally significant Ned Kelly series of paintings.
In Kelly's 1879 manifesto, the Jerilderie Letter, Ned commands the wealthy squatters to share their land with, and redistribute their wealth to the selectors – the rural poor – for 'it will always pay a rich man to be liberal with the poor … if the poor is on his side he shall lose nothing by it.' For some contemporary commentators, his Letter is comparable to a Marxist proclamation for poor Australian colonists, while reading it has been likened 'to listening to a radio broadcast by revolutionary Che Guevara.' Favourable accounts of Kelly from his captives, and his 'public performances' of burning mortgage documents during his bank raids, contributed to his reputation as a man of the people.
Indeed, the pervasive nature of Kelly imagery resonated as powerfully in the late 19th century as it does today. The subject of a new movie based on Peter Carey's True History of the Kelly Gang, Ned continues to feature in a growing number of pop culture periodicals including the post apocalyptic zombie fest comic I Am Ned. In his book Outlaw Heroes in Myth and History Graham Seal writes, 'Ned Kelly has progressed from outlaw to national hero in a century, and to international icon in a further twenty years. The still-enigmatic, slightly saturnine and ever-ambivalent bushranger is the undisputed, if not universally admired, national symbol of Australia'. Modern Ned remains a fascinating enigma.
Brad Webb
18 October 2018
About the author
In 1995, Brad Webb launched IronOutlaw.com which has grown to be the world's largest website on Ned Kelly. Brad has spoken about the Kelly legend on television, radio, and in print. In 2017, New Holland published Brad's novel Ned Kelly: The Iron Outlaw. Brad has held academic positions at James Cook University, RMIT's School of Advertising, Ducere Global Business School, and was senior lecturer and subject coordinator for the Bachelor of Writing and Publishing at Melbourne Polytechnic for over seven years. Brad holds a Master of Publishing and Editing from Monash University and is currently researching his PhD on Australian stock characters and archetypes through his exegesis From Folk to Super Hero: Ned Kelly's Remarkable Mythology which Trojan Press has optioned to publish upon completion. Presently, Brad is the Creative Director at ImpressPM and he also a sessional lecturer at the Academy of Information Technology (AIT).
Link: Orcid.org